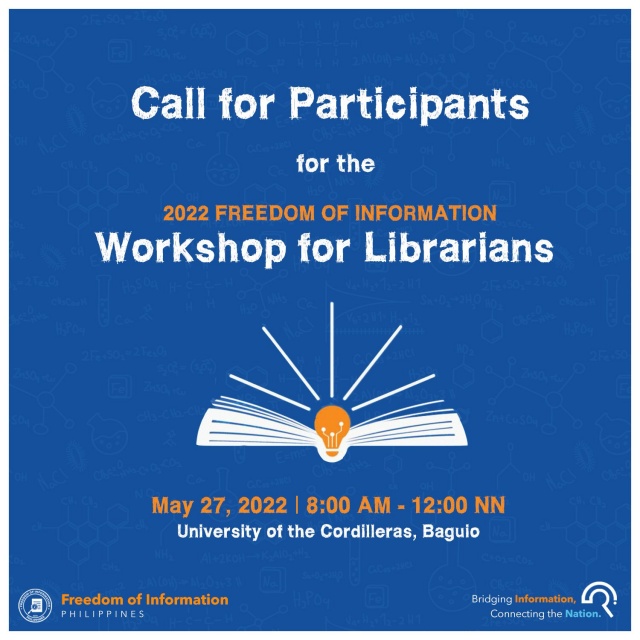 Please note that as of May 16, Registration has been closed
The Freedom of Information – Project Management Office (FOI-PMO) brings back its face-to-face FOI Program Workshop for Librarians – Luzon Leg. The FOI Program's Workshop for Librarians is a Continuing Professional Development (CPD) workshop which aims to capacitate and enable our librarians with the essential knowledge and skills to implement the FOI Program in their respective libraries and learning institutions. Registered librarians will earn three (3.00) credit units upon completion of the workshop.
The FOI Program Workshop for Librarians – Luzon Leg will be held on May 27, 2022 (Friday), 8:00 AM - 12:00 NN at the University of the Cordilleras, Baguio. Registration to this activity is FREE.
Applicants will be selected on a FIRST-IN, FIRST-SERVED basis. Past participants of the Seminar-Workshop and Webinar for Librarians are no longer eligible to join this event.


Interested applicants must fill-out the online registration form at https://bit.ly/2022FOILibrariansBaguio
For inquiries, you may directly call us at 8-711-9935 or you may email Ms. Jaya V. Illustrisimo at jaya.illustrisimo@pco.gov.ph
Share on Facebook:


Related posts:

Share this post on social media below or copy this link: https://bit.ly/3wmHQxE