Department of Science and Technology-National Research Council (DOST-NRCP), in partnership with researchers from De La Salle University, is seeking to preserve the indigenous Mangyan language through a mobile dictionary app.
The Hanunoo-Mangyan language is spoken by the Mangyan indigenous peoples of Mindoro, Philippines. Currently, there are around 13,000 native speakers of the language. It is a critically endangered language and the writing system is rarely used at present.
Their research is focused Language Preservation and Documentation of Hanunoo which includes studying enthnolinguistic vitality and creation of a mobile e-dictionary. The team is led by Dr. Rochelle Irene Lucas of the De La Salle University.
According to Lucas, "The language is critically endangered because of the limited use of their writing system... The younger generation of the Hanunoo Mangyan are no longer literate in their system of writing which will eventually lead to language loss in writing their script."
"There are 187 Philippine languages, but only 183 are living, while the other four are already extinct. Of the living languages, 175 are indigenous, while eight are non-indigenous. Some 13 languages are endangered and 11 are dying," according to DOST.

The app is hoped to help the preservation of the language and popularize its usage.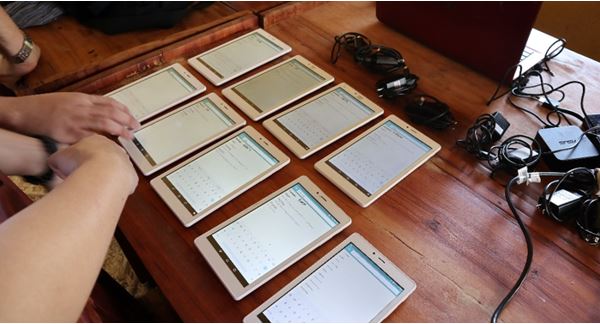 Photo from the presentation "Language Preservation and Documentation of Hanunoo: Saving the Mangyan Culture" of Dr. Rochelle Irene Lucas
Share on Facebook:
Sources:
Cruz, K. (2022, March 11). E-dictionary preserves dying languages. Link
Ducusin, J. B. (2022). DOST funded Mangyan language app to preserve the indigenous language. Link

Share this post on social media below or copy this link: https://bit.ly/3P43DCC