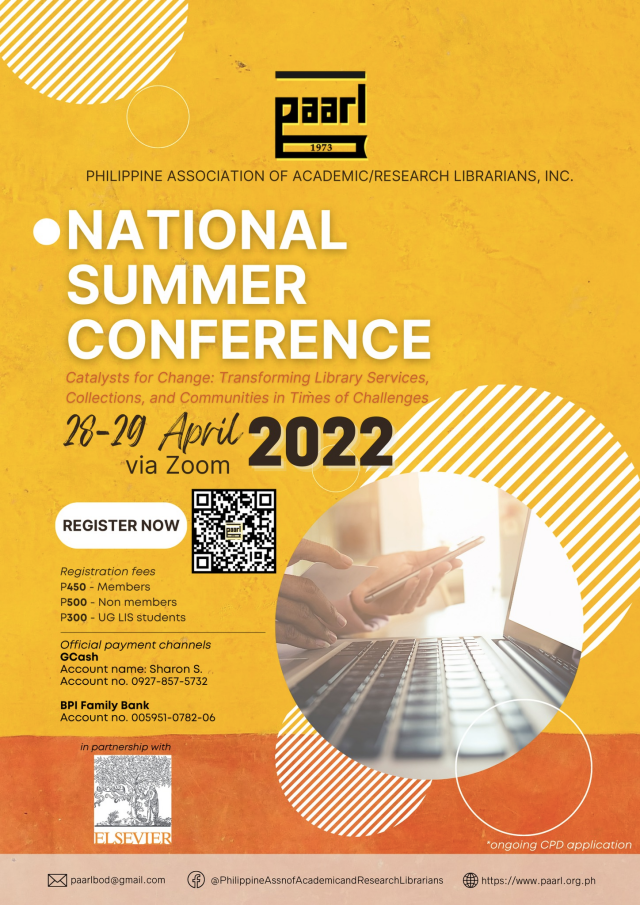 The Philippine Association of Academic and Research Librarians, Inc. (PAARL) will be holding their 2022 National Summer Conference for librarians on April 28-29, 2022 (Thursday to Friday). The event will be held online via Zoom. The theme of the conference is "Catalysts for Change: Transforming Library Services, Collections, and Communities in Times of Challenges."
The conference aims to inform librarians of the innovative ideas implemented by different libraries during the pandemic and explore how other libraries respond and transform their services during these challenging times.
The CPD points for this activity is currently being processed.
Registration deadline is on April 26, 2022. For interested participants, please register on this link: https://bit.ly/PAARL_NSC2022
The conference fees are as follows:
PAARL Member: P450.00
Non-Member: P500.00
Undergrad LIS Students: P300.00
For inquiries, contact PAARL through e-mail at paarlbod@gmail.com
Follow PAARL on Facebook or visit their website.
Share on Facebook: