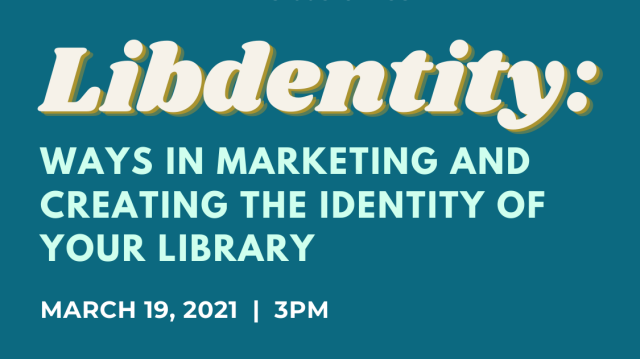 I will be speaking for this webinar.
LIBDENTITY: Ways in Marketing and Creating the Identity of Your Library on March 19, 2021, 3 PM. It will be streamed live on our Facebook Page
CPU Henry Luce III Library
.
About the webinar: The modern library is facing many challenges – competition with online platforms, lacking support from administration, and keeping up with a fast-changing world. In this webinar, we will discuss how to know and establish your LIBdentity. Know your value, potential, and how to effectively share and promote your library to your community.
Our speaker is Allana S. Delgado, RL, MLIS, Librarian for the Graduate School and BAHANDIAN Institutional Repository. Director of Libraries Ma. Cynthia T. Peleña, RL, MLIS, will be joining the Q&A.
There will be certificates only for those who have pre-registered. Registration will only be until March 18, 2021 in the morning. This is in collaboration with the MLIS 608 – Reference Services class.

See you at the webinar and for those who will not be able to attend, the recording will be available.
Full poster: