Note: As of November 8, 2022, this webinar is no longer accepting participants.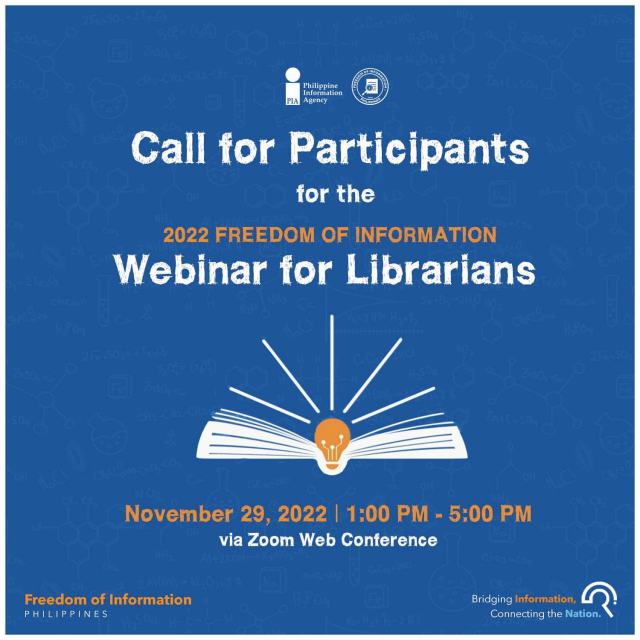 Filipino Librarians are invited to participate in the 2022 Freedom of Information (FOI) Webinar for Librarians on November 29, 2022 (Tuesday), 1-5 PM via Zoom. This event is organized by the Freedom of Information - Project Management Office (FOI-PMO).
According to PRC CPDAS, this event has 2.0 CPD units for attendees and registration is free.
The workshop "aims to capacitate and enable our librarians with the essential knowledge and skills to implement the FOI Program in their respective libraries and learning institutions."
Read: Librarians essential for Freedom of Information -PCOO
What is FOI?
Freedom of Information is a mechanism that allows Filipino citizens to request any information about the operations and transactions of the government. However, this does not include information that can affect privacy or national security.
The following information can be requested via FOI: "Information, official records, public records, and, documents and papers pertaining to official acts, transactions, or decisions – as well as to government research data used as basis for policy development." Requests are also accepted via their online platform, https://www.foi.gov.ph/
For questions and concerns about this event, you may contact Ms. Jaya V. Illustrisimo via e-mail at jaya.illustrisimo@pia.gov.ph.
Past participants of the FOI webinar are no longer eligible to attend this event.
Share on Facebook:
Source: FOI Philippines
Want more CPD learning activities? Follow PH Library News on Facebook or see more posts on CPD programs.
Share this post on social media below or copy this link: https://bit.ly/3UL3KW7