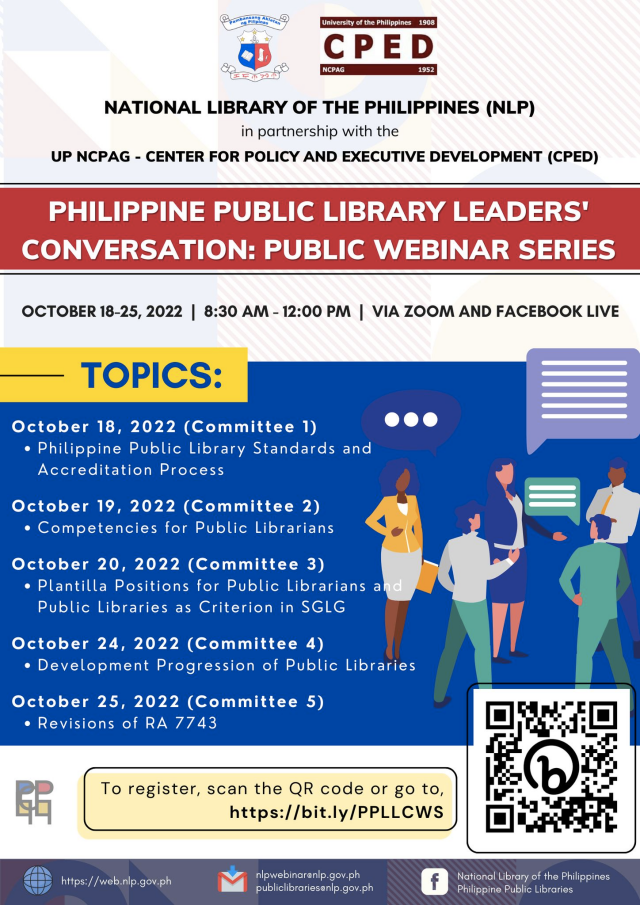 The National Library of the Philippines (NLP) Public Libraries Division, in partnership with UP NCPAG - Center for Policy and Executive Development, will be conducting a five-day free webinar series on the topic, "Philippine Public Library Leaders' Conversation (PPLLC): Public Webinar Series" on October 18-20 and 24-25, 2022 (Tuesday to Thursday and Monday to Tuesday), 8:30 AM to 12 NN. The event will be streamed via Zoom and Facebook Live.
According to PRC CPDAS, this event has 10 CPD points for attendees. Registration is FREE. Please see below for registration link and other details.
The webinar aims to "Outline the proposed policies, advocacies, activities, and/or plans presented by the five (5) PPLLC Committees, including the recommendations given by their stakeholders, on the issues affecting public library profession."
For questions and concerns, you may contact the organizers via e-mail at nlpwebinars@nlp.gov.ph or publiclibraries@nlp.gov.ph. For updates, check the National Library of the Philippines Facebook page.
Program
The event will also be streamed on the NLP Facebook page.
Schedule 8:30 AM-12 NN
Day 1: October 18, 2022 (Tuesday) Philippine Public Library Standards and Accreditation Process
Day 2: October 19, 2022 (Wednesday) Competencies for Public Librarians
Day 3: October 20, 2022 (Thursday) Plantilla positions for Public Librarians and Public Librarians as criterion in SGLG
Day 4: October 24, 2022 (Monday) Development progression of Public Libaries
Day 5: October 25, 2022 (Tuesday) Revisions of RA 7743
Share on Facebook:
Want more CPD learning activities? Follow PH Library News on Facebook or see more posts on CPD programs.
Share this post on social media below or copy this link: https://bit.ly/3EP21Kr