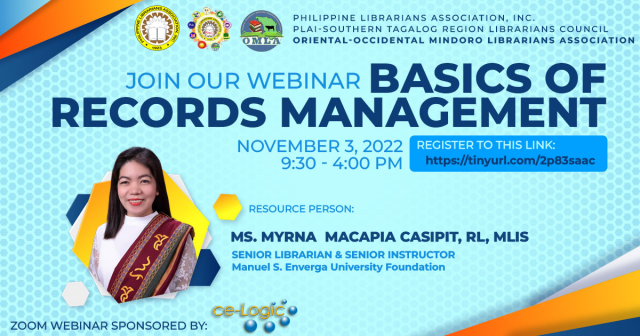 Despite many professional and educational activities slowly transitioning to face to face, webinars are here to stay. Thanks to webinars and online conferences held by various library organizations, we can still attend educational seminars from the comfort of our own homes or offices. Webinars can also save us time and money for transportation, accommodation, and other travel expenses. It is one of the 'pandemic trends' that I hope is here to stay, to provide professionals with affordable and convenient learning opportunities.
The Philippine Librarians Association, Inc - Southern Tagalog Region Librarians Council (PLAI-STRLC) in partnership with the Oriental-Occidental Mindoro Librarians Association, in partnership with CE-Logic, is offering a FREE webinar in time for the 32nd Library Information Services Month this November 2022. The free event's theme is "Basics of Records Management" on November 3, 2022 (Thursday) 9:30 AM to 4:00 PM via Zoom.
The featured speaker is Ms. Myrna Macapia Casipit, RL, MLIS, Senior Librarian and Senior Instructor of the Manuel S. Enverga University Foundation.
Share on Facebook:


Source: Natividad Templanza [link]
Want more CPD learning activities? Follow PH Library News on Facebook or see more posts on CPD programs.
Share this post on social media below or copy this link: https://bit.ly/3TCx8xj