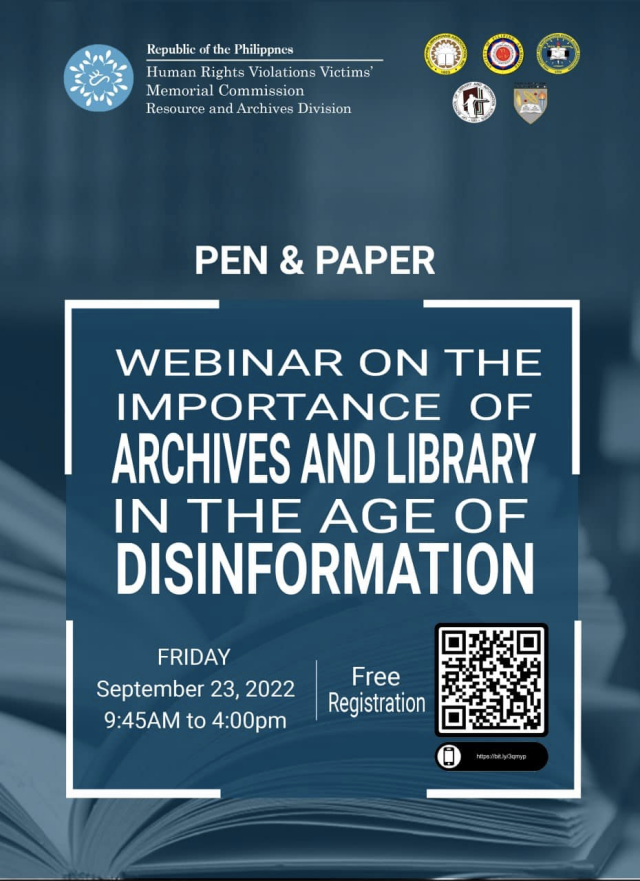 The Human Rights Violations Victims' Memorial Commission (HRVVMC) in partnership with the Philippine Librarians Association Inc., Society of Filipino Archivist, Philippine Normal University Library and Information Science Alumni Association, University of the Philippines – School of Library and Information Studies, and Lyceum of the Philippines University – College of Arts and Sciences will conduct a free webinar, "Pen and Paper: Webinar on the Importance of Archives and Library in the age of disinformation" on September 23, 2022 (Friday), 9:45 AM to 4:00 PM via Zoom.
The speaker for this free event is Dr. Francis M. Navarro, a graduate of the University of the Philippines at Diliman where he took his Bachelor of Arts degree in History. He pursued higher studies at the Universidad de Salamanca as a scholar of the Spanish government where he took his Doctorate in Archival Management. Aside from being an Assistant Professor of History at the Ateneo de Manila University, he is also the Director of the University Archives which includes the Archives of the Manila Observatory and the Philippine Province of the Society of Jesus.
He is currently lecturing at the Loyola School of Theology where he teaches Church History. In 2018, he was awarded by San Beda College, where he finished his elementary and high school education, as the Most Outstanding Bedan in the field of Arts and Culture. His most recent role was being a part of the panel to study and investigate the First Easter Mass Celebration in the Philippines celebrated in 1521.
This webinar aims to examine the importance and impact of the archives and the libraries with the people dedicated in preserving and propagating information based on facts.
About the webinar
As we are now in the digital age and the developments in the dissemination of information through various media, disinformation has become common means of shaping the public opinion. It becomes more apparent to highlight the role of archives and libraries in maintaining the integrity of the documents and the information it holds.
Share on Facebook:
Want more CPD learning activities? Follow PH Library News on Facebook or see more posts on CPD programs.
Share this post on social media below or copy this link: https://bit.ly/3eFWZ7Y