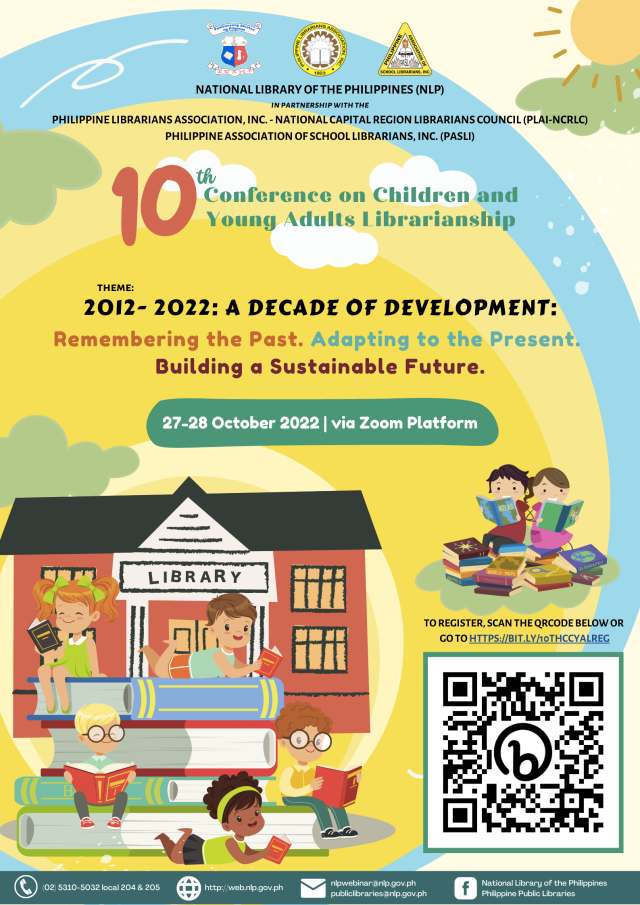 The National Library of the Philippines, in partnership with the Philippine Librarians Association, Inc. - National Capital Region Librarians Council (PLAI-NCRLC) and Philippine Association of School Librarians, Inc., will conduct the 10th Conference on Children and Young Adult Librarianship (10th CCYAL) on October 27-28, 2022 (Thursday to Friday) via Zoom.
The event's theme is "2012-2022 - A Decade of Development: Remembering the Past. Adapting to the Present. Building a Sustainable Future."
The 10th CCYAL aims to provide a venue for acquiring knowledge, skills, and attitude in the development of children and young adult libraries through inspiring experiences of adaptations, trends, and best practices of children and young adult programs and services, and stories of establishing a sustainable future for these libraries within and outside the country.
The Zoom meeting room is limited to 450 participants only. Those who cannot join in Zoom can stream the event via Facebook Live on the National Library of the Philippines Facebook page.
Share on Facebook:
Want more CPD learning activities? Follow PH Library News on Facebook or see more posts on CPD programs.
Share this post on social media below or copy this link: https://bit.ly/3AZPFM9