The author (left) and me on the right
Last April 27, I was invited to a book signing of My Autobiography: Seasoned by Stress by Marco Toral. It is rare for me to be invited for a book signing with the author present, so I took the opportunity.
The author's story was featured in the Netflix documentary series Happy Jail. Imprisoned for drug possession for seven years, he later was hired as a consultant for the Cebu Provincial Detention and Rehabilitation Center. The author shared his story of spending time in prison and life after. Later, when he was hired in the jail, it definitely raised some questions. But Toral's experience as a former inmate made him sensitive to the needs of the other inmates and his perspective brought significant changes in the jail.
The event was small, with some some ten to fifteen bloggers, media, and a few who work for jail management in the city. But it was nice to have a small, close event to interact and engage with the author better. We got to hear the author's story and what the book is about from him.
I also got a free copy of the book during the event! I have not watched the Netflix documentary series (maybe I would if I have time in the future).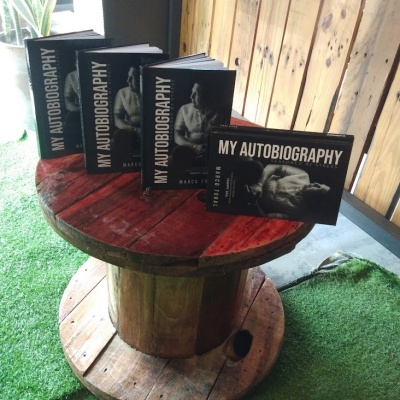 The book
Book review and first impressions
Book synopsis: Marco Toral was a man whose life was mapped out for him as part of a prominent clan in Cebu but an arrest changed the course of his life and led him to play a crucial role in the prison reform at the Cebu Provincial Detention and Rehabilitation Center after spending seven years as an inmate. In this book, Marco looks back at his years as a businessman, inmate, a jail consultant, and now as a semi-retired man.

My Autobiography is a short book, so I had read it in one sitting. While the author's story is touching and compelling, I wished it was longer. At 105 pages, it feels more like a summary and highlights of his life rather than a more detailed look of his time in jail and his life before and after. I think his experience as a jail manager/consultant was detailed more in the documentary series than the book. But that is only my preference as I like longer books. I just felt that it could have been a lot longer.
What I do find interesting about his story is the author's relationship with his family before, during, and after his jail stay: the unrelenting faith of his mother, the estrangement from his first spouse, and meeting his son again after seven years in prison. It's a story of redemption, forgiveness, and faith. It's interesting to note that he came from a prominent and wealthy family in Cebu, and even ironic that the jail he stayed in was built on land donated by his grandfather. But of course, his status gave him a better situation than those who are not as wealthy in prison.
After being recommended by a politician to handle the jail, he faced some criticism. However, I do think that his first-hand experience as an inmate gives him a unique and more authentic insight on the situation of the people inside. He did what he could to improve the daily situation of the inmates such as creating livelihood programs, allowing longer visiting times from families, and increasing the food budget. I do admire the author's work in making the jail a little better and bringing light into the issues and problems in the country's justice system.
However, I am not a big fan of the book's title. As a writer myself and having tried writing fiction, I am conscious of how the words sound and titles are important for me. They need to be intriguing and compelling. I will probably not be as intrigued of the book if I just saw the title. But then again, that's just my personal preference.
Share this post on social media below or copy this link: https://bit.ly/39Q7t2t