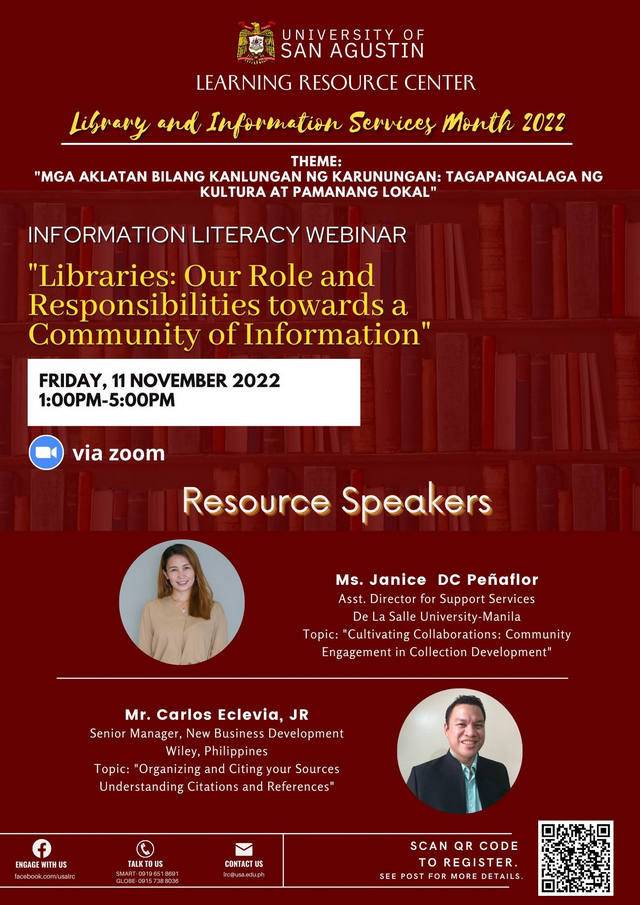 The University of San Agustin Learning Resource Center and their Vice President for Academic Affairs Office will be conducing a free webinar in celebration of the 32nd Library and Information Services Month this November 2022.
The topic will be "Libraries: Our Role and Responsibilities towards a Community of Information." The webinar will be on November 11, 2022 (Friday), 1-5 PM via Zoom.
Objectives
Familiarize the participants, particularly the faculty, with their roles in collaborative collection development;
Understand the value of collaboration between the library and the community;
Raise awareness of proper reference citation in all aspects of research, scholarly papers, and syllabi.
The featured speakers and topics are:
Janice DC Peñaflor, Asst. Director for Support Services of the De La Salle University in Manila will speak on "Cultivating collaborations: Engagement in Collection Development"
Carlos Eclevia, Jr., Senior Manager, New Business Development of Wiley Philippines will speak on "Organizing and citing your sources: understanding citations and references"
Upon registration, the meeting link will be sent to your e-mail.
Source: Justine Tablac
Want more CPD learning activities? Follow PH Library News on Facebook or see more posts on CPD programs.
Share this post on social media below or copy this link: http://bit.ly/3EgLvCp