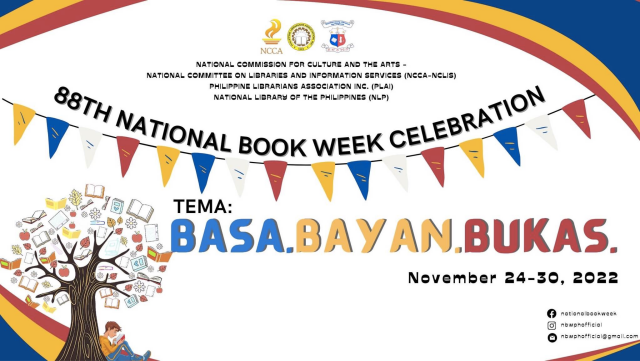 November 24-30 of each year was declared as the National Book Week in the Philippines by virtue of Proclamation No. 109, series of 1936, signed by former President Manuel L. Quezon.
Read: Proclamation No. 109, s. 1936: National Book Week Law
This year's National Book Week is led by the Philippine Librarians Association Inc. (PLAI), National Library of the Philippines (NLP), and the National Commission for Culture and the Arts - National Committee on Libraries and Information Services (NCCA-NCLIS).
The theme of this year's celebration is Basa. Bayan. Bukas. ("Read.Nation.Tomorrow" in English)
The chosen theme shows the value of books and reading for the good of the people and the future. Through reading, especially local publications, we can better recognize our identity as a Filipinos; and think about how we can shape ourselves for the future of the country.
The celebration week will showcase Filipino publications and promote local publishers and writers.
For news and updates for the upcoming events and activities, follow the National Book Week Facebook page. For questions and concerns, you may also contact them via e-mail at nbwphofficial@gmail.com.
Here are activities that librarians, libraries, and students may join:
Digital Poster Making (SHS, College and University Student)
The contest aims encourage interests in reading, love for books, and to engage the Filipino community into the celebration of the 88th National Book Week. See full guidelines and criteria
Pinoy Book Character Costume Online (Grade 1 - Grade 10)
This contest aims to provide an opportunity for the pupils and students to promote the excitement and love of reading by showcasing characters from Filipino books. See full guidelines and criteria
Reader's Theater Online ( Pupils Ages 6-10 years old)
This aims to provide an opportunity for the pupils to develop the love of books and reading; and enhance their presentation and communication skills through theater reading. See full guidelines and criteria
Library Book Display Online (any types of libraries)
This contest provides an opportunity for the librarians and libraries to promote reading and local publications to the community. See full guidelines and criteria


.
Want more local library news? Follow PH Library News on Facebook or see more posts on library news.
Share this post on social media below or copy this link: https://bit.ly/3U7Nhea