Table of contents

2023 Librarians Licensure Examination Schedule and Venues
This November 2022, the Professional Regulation has posted the schedule of the Librarians Licensure Examination for 2023. The board exam for librarians schedule for 2023 will be on September 11-12, 2023 (Monday and Tuesday).
The target date for the release of exam results will be on September 15, 2023, Friday.
Schedule of the Librarian Licensure Examination 2023 and dates to remember
Examination venues will be in NCR, Baguio, Cagayan de Oro, Cebu, Davao, Iloilo, Legazpi, Lucena, Rosales, Tacloban, Tuguegarao, and Zamboanga.
2023 Librarians Licensure Examination Application Schedule
Application for examination will start on June 9, 2023, Friday. The deadline of applications will be on August 11, 2023, Friday. The expected release date of the results will be on September 15, 2023, Friday.
Applicants are encouraged to register online for the LERIS: Licensure Examination and Registration Information System in order to apply for the examination online.
To see instructions on creating an account and applying to take the exam, PRC created an Online Step-by-Step Manual for your reference. Follow the instructions in LERIS.
Requirements for 2023 Librarian Licensure Examination Application
According to RA 9246 or the Philippine Librarianship Act of 2003, only graduates of the courses Bachelor of Library and Information Science and Master of Library and Information Science can take the LLE. The applicant must be a citizen of the Philippines or a foreign citizen whose country has reciprocity with the Philippines as regards the practice of librarianship can take the exam.
Here are the required documents for application to take the board exam:
NSO / PSA Birth Certificate
NSO / PSA Marriage Contract (for married female applicants)
Transcript of Records with scanned picture and Remarks "For Board Examination Purposes"
Valid NBI Clearance (First Timers & Repeaters)
One (1) Certificate of Good Moral Character from any of the following:

Barangay
School
Church
Employer
There is an application fee of 900 pesos.
2023 Librarians Licensure Examination 2-Day Schedule and Program
This schedule is based on the 2022 program, which is likely still the same schedule to be used in 2023. This post will be updated if there are any changes announced.
Day 1
7:00 A.M. – 7:45 A.M.: General Instructions and Filling out of Forms
8:00 A.M. – 10:30 A.M.: Library Organization and Management (20%)
11:00 A.M. – 1:30 P.M.: Reference, Bibliography and User Services (20%)
2:00 P.M. – 4:30 P.M. Indexing and Abstracting (15%)
Day 2
8:00 A.M. – 10:30 A.M.: Cataloging and Classification (20%)
11:00 A.M. – 1:30 P.M. Selection and Acquisition (15%)
2:00 P.M. – 4:30 P.M. Information Technology (10%)
According to RA 9246, in order to pass the licensure examination, one must have a grade average of at least 75% with no grade lower than 50% on any subject.
Review Centers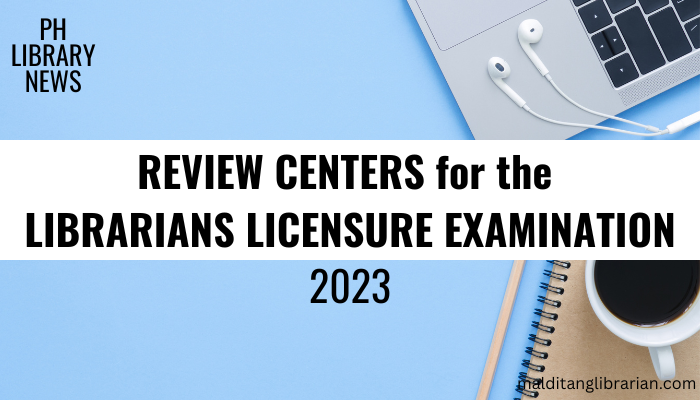 As of this writing, there are three organizations that are offering review classes for 2023. For inquiries, kindly contact them. Follow their pages to be updated:
1. Library-Bayanihan
(formerly Libraryanihan), in partnership with the University of the Philippines School of Library and Information Studies, is offering the 8th LIS Refresher Program this 2023. The LIS Refresher Program is designed for fresh graduates of BLIS and MLIS who wish to strengthen and update their knowledge in preparation for entering the library and information profession. For more information about their review program, visit:
8th LIS Refresher Program
2. Pilar College of Zamboanga, Inc. is offering intensive review sessions for the LLE on July to August 2023. For more details please contact Josefina Bello Malindog on Facebook or through mobile at 09177046492. See the poster below for schedule details: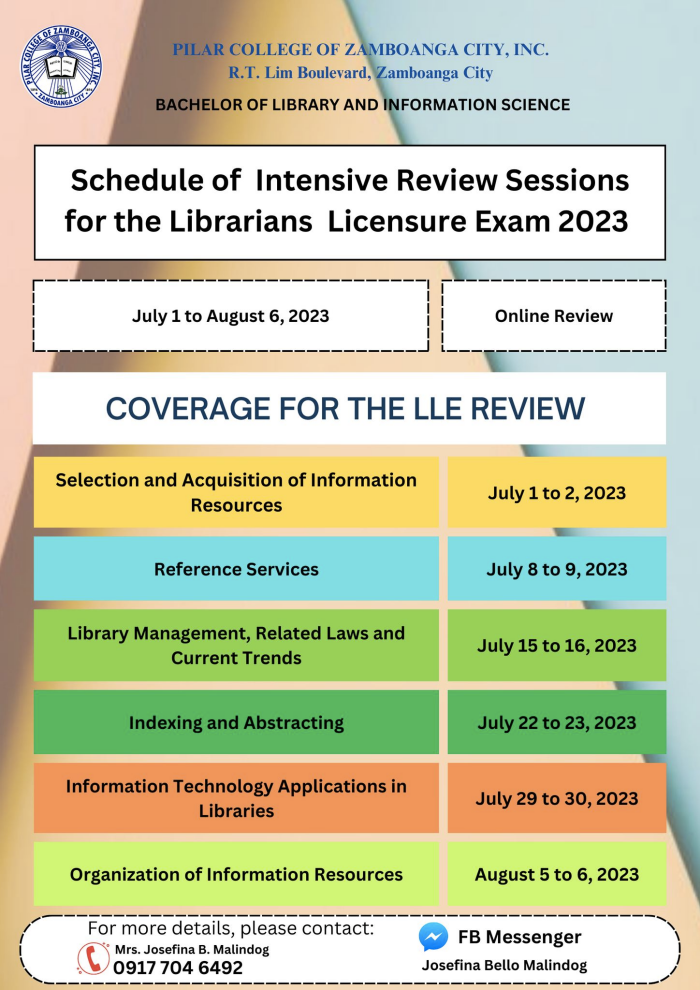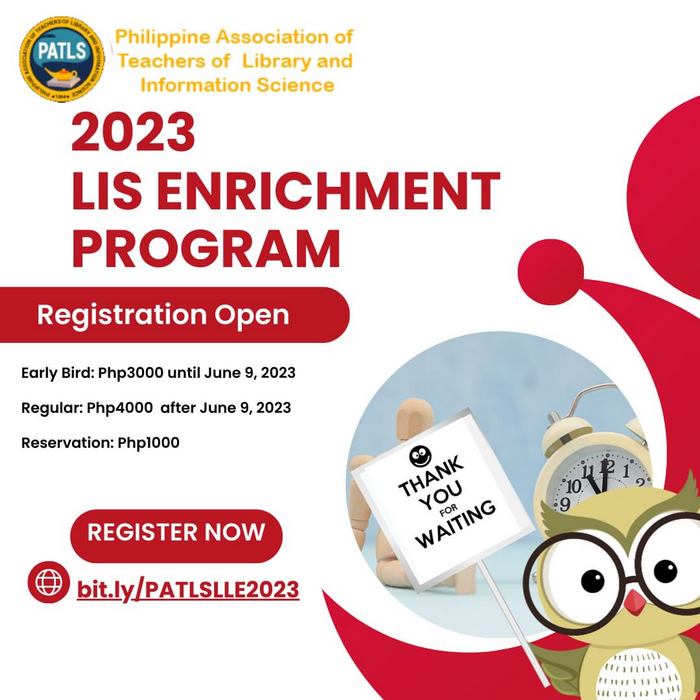 The Philippine Association of Teachers of Library and Information Science, Inc. (PATLS) shall be conducting its LIS Enrichment Program Saturdays and Sundays from June to August 2023. The LIS Enrichment Program will be offered with online synchronous sessions and access to course materials such as lecture notes and assessments via a learning management system.


Only a maximum of 190 participants will be accommodated. Fees:
Early Bird: Php3000 for full payments on or before June 9, 2023
Regular: Php4000 for payments after June 9, 2023


You may also reserve your slot for only Php1,000 and pay the balance on or before June 16, 2023.
For inquiries, you may contact the PATLS Vice President and LIS Enrichment Program Director:
Dridge Paul Reyes at vicepresident@patls.org.com or their Facebook page, PATLS Official.
Please be reminded that the accomplishment and submission of this registration form is not a guarantee for a slot in the LIS Enrichment Program. Only upon confirmation of payment of the registration fee will guarantee a participant's slot.
Librarian Licensure Examination Reviewers
FREE LLE Reviewer from Benguet State University (2021): https://tiny.one/2zawvbcb
FREE LLE Reviewer (2022): https://bit.ly/3m6i2RL
Buy LLE reviewers online:
The Complete Reviewer for the Librarians Licensure Examination
Vol 7 (2018) in Shopee: https://invol.co/cl99978
Vol 5 (2011) in Shopee: https://invle.co/cldg0mw
Vol 4 (2005) in Shopee: https://invol.co/cl99992
Abstracting and Indexing Made Easy 2nd ed. (2018)
Shopee: https://invol.co/cl999a4
Lazada: https://invol.co/cl999cf
More than Books: Perspectives on the Management of Information Resources and services in Libraries (2004) in Shopee: https://invol.co/cl99989
Librarian Licensure Examination 2023 Results
The Professional Regulation Commission (PRC) announces that 555 out of 886 passed the Librarians Licensure Examination given by the Board for Librarians in N. C. R., Baguio, Cagayan de Oro, Cebu, Davao, Iloilo, Legazpi, Lucena, Rosales, Tacloban, Tuguegarao and Zamboanga this September 2023.
The members of the Board for Librarians who gave the licensure examination are Hon. Yolanda C. Granda, Chairman and Hon. Lourdes T. David, Member.
The results were released in three (3) working days after the last day of examination.
Want more local library news? Follow PH Library News on Facebook or see more posts on library news.
Share this post on social media below or copy this link: https://bit.ly/LLE2023
Posted on Nov 30 2022
Updated on Apr 16 2023