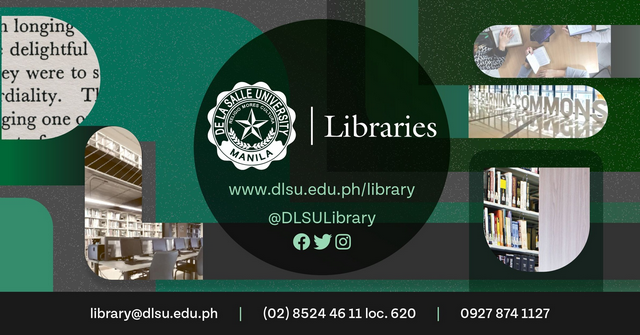 The De La Salle University Library is looking for four (4) licensed librarians. Qualified and interested applicants are encouraged to apply. Deadline of applications is on November 17, 2022 (Thursday).
Duties
"Selected candidate is expected to deliver expertise in the general conduct of work activities relative to traditional and advanced information services and programs of the Libraries. This encompasses media and information literacy instruction, digital reference service, access to digital and print information sources, technical services, collection and facilities management, archives management, and office and administrative functions and needs."
How to Apply
Send the following documents via e-mail to christine.abrigo@dlsu.edu.ph (cc: Marian.Eclevia@dlsu.edu.ph), citing Call for Applications: LIBRARIAN as the subject:
Letter of motivation addressed to Christine M. Abrigo, Director of Libraries, De La Salle University
Curriculum vitae with a recent passport-sized photograph
ORIGINAL BLIS/MLIS Transcript of Records or MLIS Certified True Copy of Grades
Certified true copy of BLIS/MLIS diploma(s)
Copy(ies) of scholarly output/research(es)/publication(s)/material(s)
Certificates of participation in at least two (2) seminars/training programs/workshops relevant to the area of expertise
Certificates of active involvement in social engagement activities
Valid PRC ID
Proof of membership to professional associations, i.e.., 2022 official receipt issued by PAARL and PLAI, certificate of membership (2022)
Job descriptions, as well as more information and requirements, can be found at this link: https://bit.ly/HiringT2AY2223
Please note that applications should be sent to the e-mail addresses provided. Applications submitted on Facebook will not be entertained.
Source: DLSU Libraries
Share on Facebook:
Want to see more jobs for librarians? Follow PH Library News on Facebook or see more posts on job postings.
Share this post on social media below or copy this link: https://bit.ly/3CD8VQp