Disclaimer: This blog only shares news for informational purposes and is not connected to these events or organizations. For questions and concerns, kindly contact the authorized organizers (contact information will be included in the post below).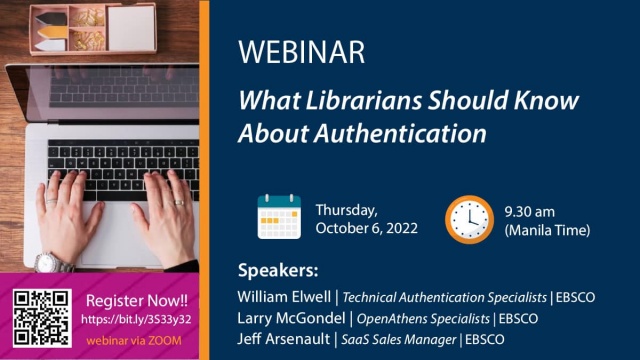 EBSCO Southeast Asia will be conducting a free webinar for librarians on "What Librarians Should Know About Authentication" on October 6, 2022 (Thursday), 9:30 AM.
The speakers include experts from EBSCO such as: William Elwell, Technical Authentication Specialist; Larry McGondel, OpenAthens Specialist; and Jeff Arsenault, SaaS Sales Manager.
This webinar aims to inform librarians on the different authentications available in the market and give comparison and updates on the most secured, simple and reliable authentication method, with capabilities of providing usage statistics and with seamless account management.
With the growing concern of security, privacy and data breach, librarians should be aware of authentication methods for accessing the online resources available to them whether onsite or off campus.
Certificate of Attendance will be provided for those who have registered for the webinar.
For questions and concerns, EBSCO may be contacted through their Facebook page.
Share on Facebook:
Want more CPD learning activities? Follow PH Library News on Facebook or see more posts on CPD programs.
Share this post on social media below or copy this link: https://bit.ly/3DRtqej