Disclaimer: This blog only shares news for informational purposes and is not connected to these events or organizations unless stated. For questions and concerns, kindly contact the authorized organizers (contact information will be included in the post below).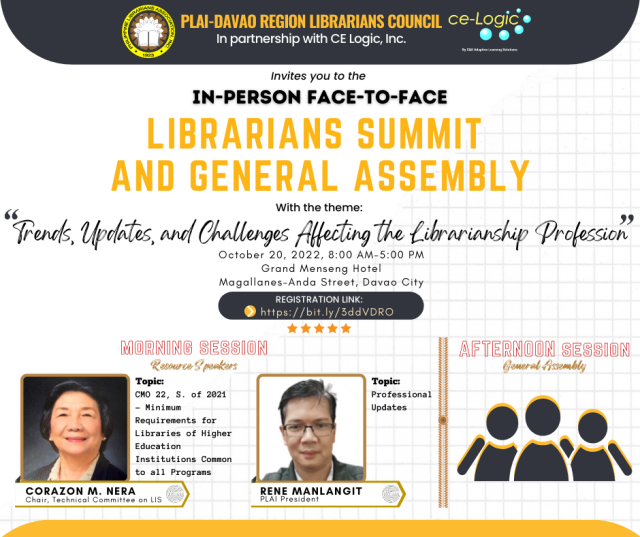 The Philippine Librarians Association, Inc. - Davao Region Librarians Council (PLAI-DRLC) and CE-Logic will be conducting an in-person face-to-face Librarians Summit and General Assembly on October 20, 2022 (Thursday) 8:00 AM to 5:00 PM in the Grand Menseng Hotel, Magallanes-Anda Street in Davao City. CPD points is being processed for this event.
Registration link, payment details, and program can be found below.
The theme for this event is "Trends, Updates, and Challenges affecting the Librarianship Profession." The speakers are Corazon M. Nera, Chair of the Technical Committee on LIS; and Rene Manlangit, PLAI President.
Objectives
To update librarians with the minimum requirements for libraries of higher educational institutions stipulated in CMO 22 s.2021;
To update librarians on the trends and challenges affecting the librarianship profession during the new normal and beyond; and
To build connections with colleagues, be updated with the Association's activities, and discuss members' issues and concerns.
Fees and payment
₱1,200.00 for professionals
₱500.00 for undergraduate students

Payment may be sent through GCash or may be paid on-site
Account Name: Fretzie A. Fajardo
Gcash Number: 09397425767
Program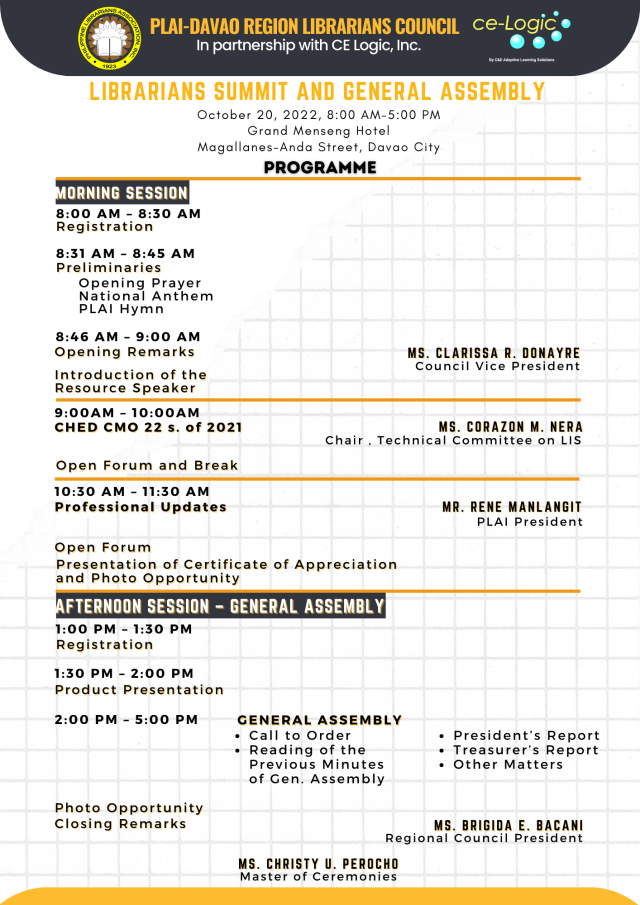 .
Want more CPD learning activities? Follow PH Library News on Facebook or see more posts on CPD programs.
Share this post on social media below or copy this link: https://bit.ly/3xV5W47