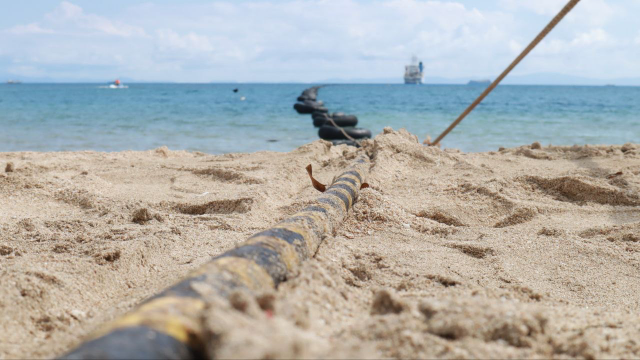 PLDT's wireless subsidiary Smart Communications, Inc. (Smart)'s ramped-up network expansion continues to reach more areas across the country, including the island municipality of Capul in Northern Samar.
For Jackielyn Cabacang, 38, a resident of Brgy 5 Poblacion in Capul, the recent firing up of Smart LTE in their area has been a great help to their town, especially in terms of keeping them abreast and informed with what is happening outside the island.
"With Smart LTE available in our town, our mobile data signal is now stronger. This has helped us communicate with others outside the island--not just in other parts of the country but other parts of the world as well," said Jackielyn, who added that as a Smart retailer on the island, the presence of LTE has helped boost their family's livelihood, too.
Mobile data has also helped Jackielyn's kids in terms of online learning. "Our children were also able to use Smart LTE for online research and for getting in touch with their teachers," she added.
The town of Capul, a remote fifth-class island municipality more than 400 kilometers southeast of Manila, is among the new areas recently reached by Smart's LTE network. Other towns include Buadiposo-Buntong and Masiu in Lanao del Sur, and Paglat in Maguindanao.
"Our long-standing commitment at PLDT and Smart is to ensure that we keep our countrymen connected--boosting their livelihoods, enabling them to participate in online classes, and powering their communication lines with their loved ones both here and abroad," said Mario G. Tamayo, Head of Technology at PLDT and Smart. "This is in support for the government's overall push to provide fast, secure and affordable internet for Filipinos, particularly in unserved and underserved areas like Capul," he added.
As of end-June 2022, Smart has rolled out around 77,100 total base stations nationwide, supporting its 3G, 4G/LTE and 5G customers. Smart's mobile network is supported by PLDT's fiber infrastructure, which was at 837,900 kilometers as of end-June.
This continued network expansion is part of the PLDT Group's sustained investments in their network. Network-related initiatives made up the bulk of the ₱89 billion spend for 2021. This brings total capex spent over the last 10 years to ₱518.5 billion up to 2021. Capex guidance for 2022 is P85 billion.