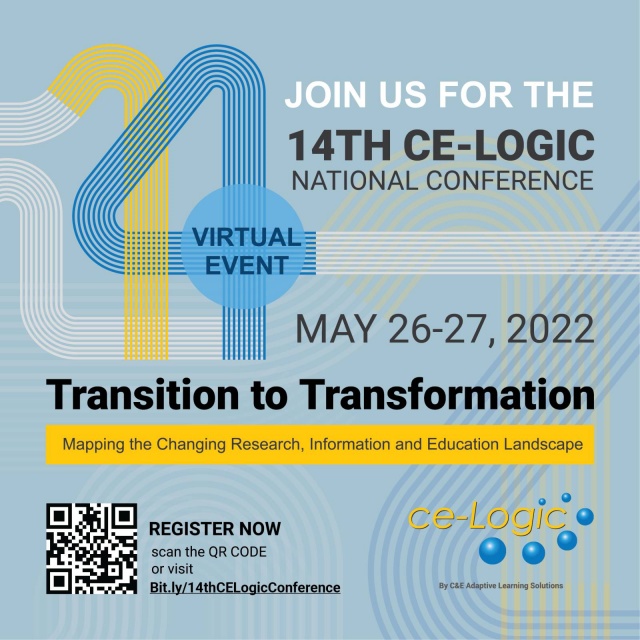 CE-Logic will be holding a free online conference, the 14th CE-Logic National Conference on May 26-27, 2022 (Thursday to Friday) with the theme, "Transition to Transformation: Mapping the Changing Research, Information and Education Landscape". This conference has 6.50 CPD units according to the PRC CPDAS (CPD Accreditation System).
About the conference:
As a premier provider of world-class, integrity-based, and innovative digital learning solutions, CE-Logic, Inc. is back to host another year of the CE-Logic National Conference. It has been a long-held tradition of CE-Logic to show its commitment to modernizing the library and information services in the country by responding to ever-changing issues and challenges faced by the industry.
Now in its 14th year, the CE-Logic National Conference will provide librarians and educators nationwide with a venue for relevant discussions and learning opportunities. The event will tackle pressing issues, challenges, and advancements in instruction, research, and information services in the country.
Sessions will be led by distinguished experts in education and information science as they explore how the industry landscape continues to change and adapt.
Objectives:
Tackle the current transition from physical and digital library spaces
Discuss how the pandemic situation redefined students' and teachers' roles in classroom management
Equip faculty members with strategies and skills that enable teaching and learning continuity amid and beyond a pandemic situation
Adopt best practices from foreign higher education institutions to help them deal with post-pandemic learning.


Registration:
Register for the conference through this link:
Please note that to register, you have to create an account in their events platform, EventX. Just click on the 'Register' for the event link in the registration page.
Conference Program and Schedule:

DAY 1, May 26 Thursday
9:00 AM - 10:30 AM (GMT +08:00)
PLENARY SESSION | From Framework to Applied Practice: CHED Guidelines on Flexible Learning
An in-depth discussion on the implementation guidelines on Flexible Learning or the CHED Memorandum Order (CMO) No. 04, series 2020
10:45 AM - 12:15 PM (GMT +08:00)
PLENARY SESSION | Flexible Learning from a Global Perspective
A fresh perspective on post-pandemic flexible learning environments and how foreign education institutions have dealt with learning in the new normal
DAY 2, May 27 Friday
9:00 AM - 10:30 AM (GMT +08:00)
PLENARY SESSION | Looking Forward: Exploring Trends in Post-Pandemic Learning Delivery
A look into the changing situation of learning delivery, tackling current trends, and strategic roadmaps faced by today's learning landscape
10:45 AM - 12:00 PM (GMT +08:00): Breakout Sessions
BREAKOUT SESSION | Advancing Globally Competitive Medical Education in the Current Info Society
A session on how healthcare educators may promote better learning outcomes with the right learning tools fit for today's healthcare students
BREAKOUT SESSION | Setting Up Educators & Researchers for Success in the 5th IR
A strategic discussion on developing digital-ready skill sets for future-ready educators and researchers that will set them to succeed in the 5th Industrial Revolution
BREAKOUT SESSION | The Role of Librarians in the Current Information Society
An exploration of the current and changing information society with emphasis on the active role of librarians in fighting misinformation and honing skilled future information workers


Share on Facebook:
Share this post on social media below or copy this link:
https://bit.ly/39ndHGt